Kung Fu Express is an independent action film written, produced and directed by Olivier Chagnon. It shows a new kind of Kung Fu action, that is not to be taken very seriously. The film was done as a portfolio for the director and some of the crew and actors willing to pursue a career in cinema.

Meet Joey, a Canadian with a taste for Asian culture and his friend and partner in business, Chang. The last one prefers to put his Chinese culture aside and enjoys the North-American life. The two friends own a courier delivery firm, Les messageries Kung Fu Express Courrier Inc., doing most of their business in Montreal's Chinatown and in Brossard with Chinese businessmen.  Their world will be turned upside-down by meeting Jiang Li, the daughter of a judge in Hong-Kong. She lives in the fear to be kidnapped by the triads; their mission is to blackmail the judge to free their boss, waiting for his trial. Joey proposes to hide and protect the girl and will fall in love with her. But the triads aren't finished yet! They kidnap Jiang Li and the combat begins to save her. With Chang and Li Ming, a local Jiang Li's friend, our hero Joey will try to save his dream girl while discovering Montreal's underground triads business.


Leading roles

• Joey, played by Jean-Frédéric Poirier
24-year-old white Canadian man. He is single and lives in an apartment in Brossard, alone. He owns a courier delivery firm with his friend and partner Chang. Joey likes the Chinese culture and he is an expert at Kung Fu. He enjoys cooking Chinese cuisine and his ideal life is with friends, in a relaxed atmosphere. He has stopped looking for true love, since he had lots of break-ups. He wears casual clothes and is rarely stressed. His motto is to taking life at your own pace and meeting new people. He lost his parents in a car crash when he was a teenager. He's a good guy with a big hearth.


• Jiang Li , played by Phoenix
21-year-old Chinese girl from Hong-Kong. She is the daughter of a judge. She lived a upper-mid class life in China. She speaks perfect English and she's attracted to North Americans and wants to make a B.A. in business. She's single and had only a few boyfriends in the past. Her best friend, Li Ming, is the person she spends most of her time with. In Hong-Kong, the triads tried to kidnap her in order to blackmail her father; in order to pronounce a triad's boss innocent at his trial.

• Chang, played by Regis Huang
24-year-old Chinese man. Best friend and partner of Joey. He is single and lives at his parents' house in Brossard. He hates all of the traditional Chinese culture. He loves 80's music and American culture. He really don't like Chinese girls, Canadians are sexier for him. He's taking Kung Fu lessons from Joey, but he is not good as good as him at fighting. Also he's not good in sports and flirting with girls. He has lot of agitation and always makes jokes. He is a lovely person.


• Li Ming, played by Yujing Wang
18-year-old Chinese girl from Hong-Kong. She is the best friend of Jiang Li. She really likes America, especially the boys, and hopes to have a career as a singer. She acts like a spontaneous person and always says what she has on her mind. She is a funny character and enjoys 80's music, mostly like Chang. She is a good Kung Fu fighter.


• Long, played by Matthew Lui
25-year-old Chinese man from Hong-Kong. He is the fighter (leader) of the triads group. Maniac, excentric, but extremely good at his job. He is an excellent Kung Fu fighter. His mission is to kidnap Jiang Li.

Secondary roles

• Quiong, played by Jiang Li
31-year-old Chinese woman from Hong-Kong, living in Montreal. She is the head of the local triads operations. She runs an illegal immigrant smuggling business. Her husband is the sentenced boss, and she hopes to blackmail the judge as soon as possible.

• Jinsong, played by Xing Wang
45-year-old Chinese businessman living in Brossard. He is Chang's uncle and he is responsible for his nephew addiction to 80's music. He has a successful import/export business and he is one of Joey and Chang's best client. He lives in a luxurious house with exotic cars. He loves the company of woman and always has different girls at his place. He is self-fish and cares only about his business.


• Eduardo, played by Joe Lopes
29-year-old Portuguese businessman living in Montreal. He owns a computer shop and has Joey as a good friend. His contacts in Hong-Kong asked him to hide Jiang Li from the triads, in Montreal.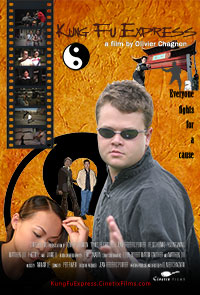 Click for the full-size poster